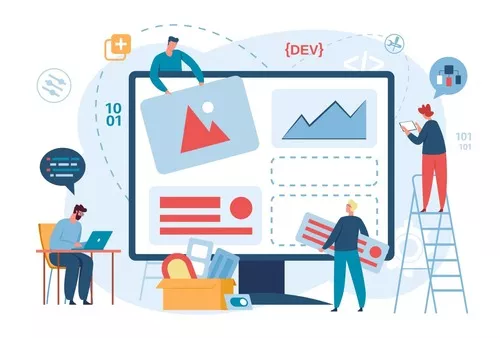 E-Commerce
Website Development
What is an E-Commerce Website ?
In today's digital marketplace, an e-commerce website is more than just an online presence; it's your business's virtual storefront, open 24/7 to customers around the world. An e-commerce website is specifically designed to facilitate online buying and selling of products or services, offering a convenient and secure platform for transactions. Here's what defines an e-commerce website:
Online Product Catalog: At the heart of every e-commerce website is an extensive catalogue of products or services. Customers can browse through detailed listings, view images, and access product descriptions and pricing information.
Shopping Cart and Checkout: E-commerce websites feature a user-friendly shopping cart system that allows customers to select items, add them to their cart, and proceed to checkout. Secure payment processing is a critical component of this stage.
Payment Gateway Integration: Payment gateways are integrated into the website to facilitate secure online transactions. They allow customers to pay using various payment methods, such as credit cards, digital wallets, and more.
Product Search and Filtering: E-commerce websites include search and filtering options, making it easy for customers to find specific products or narrow down their choices based on criteria like price, brand, and features.
User Accounts and Profiles: Customers can create accounts on e-commerce websites, enabling them to save their preferences, track orders, and receive personalized recommendations.
Inventory Management: E-commerce platforms include inventory management tools to help businesses keep track of stock levels, manage product variations, and provide real-time availability information to customers.
Reviews and Ratings: Customer reviews and ratings play a crucial role in building trust. E-commerce websites often feature review sections where customers can share feedback about products and their experiences.
Security Measures: E-commerce websites prioritize security. They implement SSL encryption, secure payment processing, and other measures to protect customer data and ensure safe transactions.
Responsive Design: Given the prevalence of mobile shopping, e-commerce websites are designed to be responsive, ensuring a seamless experience across devices, including smartphones, tablets, and desktops.
Order Tracking and Customer Support: Customers can track the status of their orders and reach out for assistance through dedicated customer support channels.
Scalability: E-commerce websites are built with scalability in mind, allowing businesses to expand their product offerings, cater to a growing customer base, and adapt to changing market demands.
SEO Optimization: To attract organic traffic, e-commerce websites incorporate search engine optimization (SEO) practices to improve visibility in search engine results.
Analytics and Reporting: E-commerce websites often include analytics tools to provide insights into customer behavior, conversion rates, and sales performance.
In conclusion, an e-commerce website serves as the digital engine powering online businesses, enabling them to reach a global audience, increase sales, and provide a seamless shopping experience. It's the modern-day marketplace where convenience, accessibility, and security are paramount.